Frozen Halal Beef Meat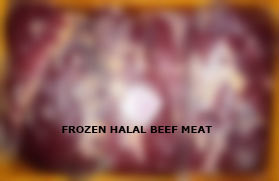 Frozen Halal Beef Meat
Product Description
We supply Cattle and buffalo meat which includes the hindquarter cuts such as topside, silverside, thick flank, rumpsteak, tenderloin, striploin, fore quarter meat comprising of blade, cube roll, chuck tender, brisket pe, brisket ne and shanks.
inspections & health certification:
all animals slaughtered at the ultra modern abattoirs-cum-meat complexes undergo compulsory and continuous postmortem inspection, performed by the competent veterinarians and the entire corned buffalo processing operation is done under the continuous supervision of the federal government inspection agency. comprehensive veterinary health certificate is issued for every consignment of corned buffalo confirming its suitability for human consumption.
halal certification:
the meat products are manufactured exclusively from animals which have been slaughtered strictly in accordance with islamic rites and a halal certificate is provided for every consignment.
Contact for more.
Contact Us
Kurtulus Meydani Inonu Bulvari No. 70, Klas Plaza A Blok, Kat 13 D.24-26,, Mersin, Icel, 33940, Turkey
Phone :+905524799947