Lead batteries scrap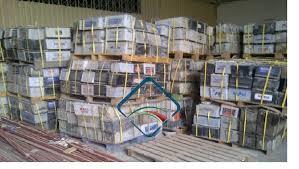 Lead batteries scrap
Product Description
Drained Lead Car Battery Scraps (Rains)

Drained Lead-Acid Battery Scrap (RAINS per ISRI Specifications).
Our Acid Battery Scrap on 99.97%.
Monthly Supply Capacity: 500 - 1500 metric tons,
Type: all kind of scrap batteries,
Fe Content: HMS
Fe Content (%): 100%)
Drained Battery Scrap: Black
Packaging Detail: Pallet with shrink wrapping.

Contact us for more details and photos.
Contact Us
Kurtulus Meydani Inonu Bulvari No. 70, Klas Plaza A Blok, Kat 13 D.24-26,, Mersin, Icel, 33940, Turkey
Phone :+905524799947