sausage salted sheep casings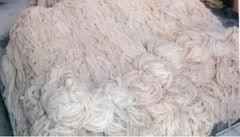 sausage salted sheep casings
Product Description
Best natual sheep casing EEC FDA HACCP
1.No veins!
2.No holes!
3.No beards!
4.Clean, Firm,Elastic in texture,right caliber.
sausage sheep casing
We are a professional manufacturer for natual sheep casing,we can produce all kinds of calibers/specifications/grades hog casings for you.
Calibers:14/16;16/18;18/20;20/22;22/24;24/26;
Sepcification: 91.5m; 85m;80m;60m.
Grade: A, AB,B,BC,C
And also, we would like to porduce the special sheep casings according to your special requirement.
The most important: we can assure you that we will give you the best quality of the sheep casings. You can choice any methods to test our quality, such as testing samples, placing a trial order, or, visiting our factory at any time. If you find any problems about our sheep casings, we will give your full compensation.
As for the prices, we will offer you the most competitive prices

Now, if you have some interestes in our natual sheep casing or our company, please kindly contact us
Contact Us
Kurtulus Meydani Inonu Bulvari No. 70, Klas Plaza A Blok, Kat 13 D.24-26,, Mersin, Icel, 33940, Turkey
Phone :+905524799947