Wholesale Stock BIC LIGHTER J5/J6/J25/J26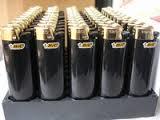 Wholesale Stock BIC LIGHTER J5/J6/J25/J26
Product Description
We are reliable and trustworthy suppliers of best quality products.

We strive to supply the best at moderate prices with Quick and rapid delivery to Clients Desired Delivery.

All documents are prepared and copies sent after shipment before couriering the original by DHL to ease clearing at destination ports.

ONLY SERIOUS BUYERS should contact us for a great and long term business.

We shall be ready to Serve you.


Model No.: BIC MAXI (J25 , J23 , J26) BIC MEDIUM(J23 , J25) MINI (J3 , J5 )
EAN Code: 3086125002843

Packaging:
50 pcs in a single tray
20 trays / carton
82 cartons / pallet

Loading:
Full Truck: 33 pallets
Container '20: 13 pallets

Assortment: BIC mini, BIC slim, BIC maxi in various colours
Logo free design is available. We also have electronic BIC lighters available.

In case of any questions, please don't hesitate to contact us.
BIC metal lighter holder
1.More than 1000 categories
2.accept OEM,can be emboss your logo on the lighte


Model No.: BIC MAXI (J26 J23 J25) BIC MEDIUM(J23 , J25) BIC MINI (J3 , J5 )
EAN Code: 3086125002843
Logistic:
50 pcs in a single tray
20 trays / carton
84 cartons / palette

Full Truck: 33 pallets
Container '20: 13 pallets

Assortment: BIC mini, BIC slim, BIC maxi in various colours

1. CE and RoHS approved.

2. Material:ABS

3. Choose the one whitch you could carry to the planet!

4. Packing customized design is available.

5. Logo free design is available.

6. Samples will send to you within 3-5days.

7. Unit size:633415cm

Packing: each lighter in a opp bag and 500pcs in a carton,carton size30*29.5*17cm G.W:21KGS customization is
welcome . PLease contact us for more information and details
Contact Us
Kurtulus Meydani Inonu Bulvari No. 70, Klas Plaza A Blok, Kat 13 D.24-26,, Mersin, Icel, 33940, Turkey
Phone :+905524799947